What we offer.
Smart MultiMedia's HD Scanning for Law Enforcement program is designed to assist public safety agencies of all types and sizes to effectively utilize HD scanning technologies. By providing access to equipment, training, and data processing, we can help augment an existing program, help start a new one, or provide program services to agencies without existing programs.
HD Scanning, while an extremely important and effective tool, is essentially a group of hardware and software based technologies that require a skillset much different than those found within a typical public safety agency. Typically there are four defined areas which must be mastered to create and maintain an effective HD Scanning program.
On-site or on-scene data aquisition (scanning)
More and more departments are realizing the value of having an HD Scanner available for pre-visualization or forensic use. However getting the scan is just the first step of the job. Having a scanner available is the first step in the process. We can help you effectively evaluate, design, and deploy an HD Scanning program for your agency. From initial equipment acquisition to training and support services, helping to create an effective streamlined HD Scanning program is our goal. Depending on a department's policies and procedures, we can respond on a 24/7 basis to almost any location - ready to correctly and appropriately collect HD scan data. Alternatively, our Deliver and Deploy program for agencies who do not allow for forensic contractors on-scene, provides training on scanner operation, and equipment deployment when needed, along with oversight and data integrity evaluation off-scene in real time.
Data integrity, storage and chain of evidence control
HD Scanning creates huge amounts of raw data. Terabytes of information can quickly build up after just a few large-scale operations. Backup and work copies of scan data must be verified and monitored for integrity. Original scan data should never leave your control. Only backup and duplicate copies of the data are used for creation of useable materials and the control original can be compared against the work materials at any point of the process.
Extraction of relevant information from raw data
Quickly extracting usable information from this data can be crucial to a forensic investigation. If your agency can easily handle three HD Scanning events per month, what happens when there are six? Providing peak and overflow services allow you to concentrate on your priorities while we help "crunch the numbers". We understand the need to quickly turnaround usable information and provide 24/7 priority service when it's required.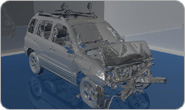 Creation of presentable materials
In the end, materials understandable to untrained persons must be generated to reap full benefit of HD Scanning. Effective presentations, animations, and recreations of events are crucial elements and require highly specialized training and software to create. Our designers and technicians are experts in the creation of 3D elements, animations and other "courtroom" ready materials.
Smart Multimedia can assist in any or all of these areas.
The HD Scanning for Law Enforcement program was specifically designed to work within the policies and procedures of the public safety community. All aspects of the program are overseen by a comissioned Texas Peace Officer and governed by specific standards and procedures to ensure integrity and accuracy.
Catastrophe and Accident Response
24/7 response is available anywhere in the world for large-scale disasters and accidents. Both "get there now" and "get there tomorrow" response methods are available. We will bring in additional resources as needed to ensure a timely and effective forensic HD Scanning.
For more Information
If you would like to be contacted or learn more about our Public Safety programs email us at hdsle@smartmm.com or call 713-574-6690.
For more information on how HD Laser Scanning can be an effective tool for your agency, visit Leica Geosystems Forensic scanning website at
http://www.leica-geosystems.com/us/forensic/index.html
Quick Links