360 Panoramic VR


Cutting Edge 360 Degree Photography and Virtual Environments
See Examples of 360 VR and Virtual Tours
Overview
Professional 360 degree Panoramic Photography and "VR" utilize specialized equipment and software to create stunning visual images and presentations. Panoramic Photos and VR allow the user to see and experience "the whole picture." While 360 panoramic photos are excellent for traditional print displays, 360 Panoramic VR goes a step further, allowing the visitor to experience a full 360 degree spherical view as if they were standing in the actual location. Quicktime and Flash based presentation tools allow the addition of audio, video, and links to other VR environments to produce compelling virtual tours.
360 Panoramic VR is an excellent sales and collaboration tool
Real estate, restaurant, hospitality, just about any industry can benefit from the use of this technology to take customers, prospects, or colleagues on-site without leaving their chair. VR presentations can be placed on websites, emailed, distributed on CD's or other media – like thumbdrives – to anyone with a computer or compatible device. Customers and collaborators can experience and evaluate any location with great detail. Coupled with HD Laser Scanning, Panoramic VR presentations can be used to take discrete measurements, and allow for markups and dimensioning.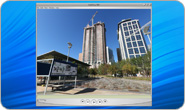 Easy to use interface
VR presentations are highly intuitive and require little or no specialized training to use. They are also cost effective, providing a wealth of information at a very reasonable cost. Typical 360 VR and 360 Panoramas range from $250 to $3500 depending on the complexity of the project. Additionally, both 360 Panoramic VR and 360 Panoramic photography production is minimally disruptive and in most cases can be produced with little or any interruption of day to day activities. If you would like a quote on your project or more information, contact us at 360@smartmm.com
For more Information email 360@smartmm.com